As is my habit, I upload these directly from my phone. This is especially helpful today as I am supposed to be resting after being diagnosed yesterday with a concussion. I "concussed" myself on Sunday (in the words of the doctor) when I stood up under my parents' freezer door full force. I suffered from a headache, mostly severe and non stop, for four days before going to the doctor yesterday. I do not suggest this. Bad news: I have a moderate concussion. Good news: the CT scan revealed that nothing further is amiss. Now I need to rest (after spending the past 4 days of not really doing that at all). I am being aided by some strong medication whose goal is to
break
the headache. Let's hope it works although each day they are lessening a bit already making living a little more tolerable :)
Shelby after 24 hours+ at the Great Wolf Lodge with a friend.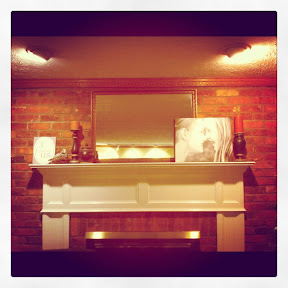 Post Christmas mantel. Large canvas of my girls arrived last week and it is temporarily resting there. The canvas is gorgeous. Photo by the lovely and talented,
Carla Essen.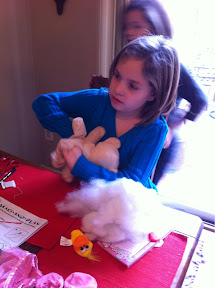 Stuffing a Build A Bear (kit purchased from my Michaels by MaMa). This required A LOT of hand sewing. You have been warned.
Mama, Olivia and pet...with stuffing still on the table :)
On Thursday, Olivia graduated from the schools' 14 week DARE program. Officer Petrocelli has been a big hit and topic of conversation at our house. After hearing him speak, I can see why. This is a great, dedicated guy.
InstaFriday originated at
Life Rearranged
. Visit there to read more or to participate.
- Posted using BlogPress from my iPhone
Pin It