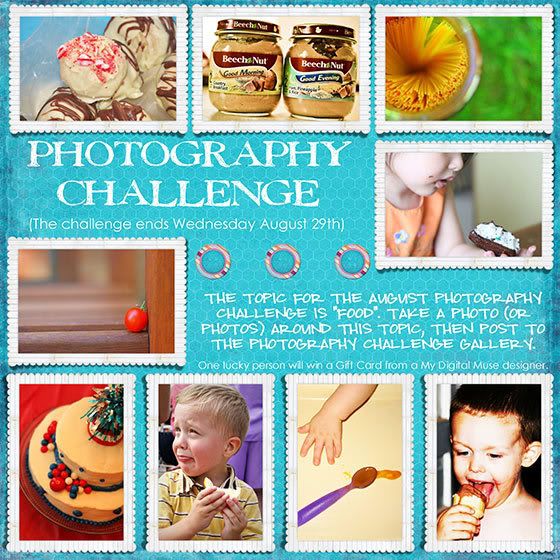 A fun photography challenge at
mydigitalmuse.com
and 3 of my photos are on this little advertisement! The top right, which is spaghetti in a glass container, outside on my grass. The next one of mine is the lil, itty bitty, red tomato. And finally, my girls B'day cake made by a friend. Cool, huh?! I hope to take a few more this month. Food is not easy to photograph for me, so this took me outside of my comfort zone...and I like it! I know one you can count on...wedding cake. My stepsister is getting married this Saturday and although my stomach lurches just saying it, I am chief photgrapher. Please pray that I am disaster free.
I used the Rianna mini kit to make the big square which consists of the floral paper, very cool shadow frame, label, and small text in the bottom corner. I printed all of that out 7x7, and then added rub ons for the word ANGEL. I attached that to cardstock. I outlined everything w/ a white sharpie, added ribbon and a few buttons. Fun!Small text says: perfect features, big, dark eyes, contagious giggle, my girl
Lots of traditional paper products here! Journaling box (printed on cardstock) from Summer Breeze kit from My Digital Muse, as is, the date stamp/brush from Holly's journal dates.
I have more great stuff to work with this month and no lack of ideas, just a limit on time. I must overcome!!

Pin It