Not only was this a fun time because we all committed to being in the same place at the same time, but it was a great opportunity to break out the iPhone fisheye lens again!!
This was at breakfast/lunch beforehand. I am wowing them with my new lens :) But look, it fit everyone in with ease...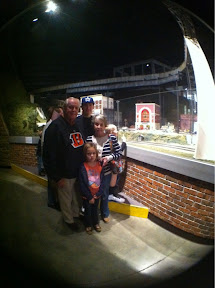 Here are 4 people who top my list: My mom, Jim, Tyler and Shelby.
This is a cool one of the train display. This area had tiny replicas of Cincinnati as it would have been in the past. There was a yellow trolley circling in there too. My sister said: Oh look, Mr. Rogers. Tell me YOU know who Mr. Rogers is because most of the people around us did not. Hmmph.
Farther down, there was an observation deck so this shot is taken from above. The detail is unbelievable in the displays. They provide scavenger hunt type sheets which really made it fun for Olivia and some of the big people. Shelby...not so into that.
But about 2/3 of the way through, she took over the camera (not a fan of the Fisheye, she chucked that immediately!). She took so.many.photos but it kept her interest and she captured much of the detail. Doesn't this one above look realistic?
The requisite family picture :)
Along with the requisite group photo :) It was a great way to spend a Sunday. All of us give
Entertrainment Junction
2 thumbs up. And oh yea, we scored a super
Groupon
on Friday that saved us tons on admission.
- Posted using BlogPress from my iPhone
Pin It