Although we had plenty to do by many people's standards, for me this was a fairly low key weekend with fewer than usual commitments. Because of that, I got some projects checked off my to do list.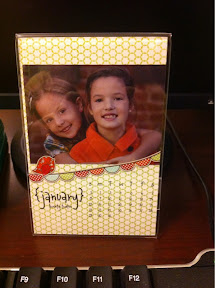 Desk calendars for my family. Check.
Christmas printable
printed and framed. Check.
Yarn wrapped letters. Check. (Helpful hint: paint the letters/numbers to match the yarn. With so many curves, you cannot fully cover the wood.)
The picture and numbers will go on my new console table which I hope arrives this week.
I also completed 6 Snowman kits. I will share those this week.
Still on my list: more catnip pillows and braided fleece dog toys. The girls will help with these and we want to deliver them to a shelter before Christmas.
Tony and his huge mess...I mean snow angel.
Olivia's fabulous gingerbread house that she created at a birthday party today. It is a masterpiece. She raved forever about how great this party was.
Lots on tap for the week. Only 12 more days!
- Posted using BlogPress from my iPhone
Pin It