Whoa! Can you tell someone got a new, much more demanding job? The blogging has fallen way off. No worries. I am slowly finding a groove. Today, it is InstaFriday, the brainchild of
Life ReArranged
, a wonderful blog that you should click over and read. What is InstaFriday?
Share what you've been up to all week using nothing but cell phone pictures!
A recap of our week via iphone pictures: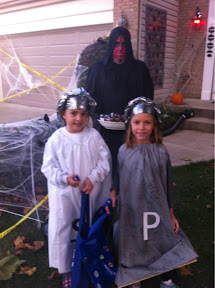 Shelby (salt) and her classmate (pepper).
Monster Eyeballs
Costume Parade at school
Mega amounts of candy
Before school on Spirit Day
Art
on the wall finally. Pictures surrounding are just place fillers for now. Waiting on our new family photos to replace those.
- Posted using BlogPress from my iPhone
Pin It